Welcome to DiversityDHS!
DiversityDHS is a fully qualified 501(c)(3) non-profit, charitable, social and community benefit organization dedicated to uplifting and betterment of the LGBTQ community of Desert Hot Springs.
Here you will find information about our objectives, Board of Directors, and upcoming events.
You can also join our email distribution list or submit your name for fun volunteer activities like walking in the Palm Springs Gay Pride Parade, planning a big party, offer your talents and skills to our organization or simply enjoy the support, friendship and connection to other kindred spirits you will find among us here at DiversityDHS.
A True Community Partner
DiversityDHS has gifted funds to several community organizations within the City of Desert Hot Springs as part of it's ongoing role to promote diversity and enable a higher level of service to their members.
Your Participation Makes A Difference!
See below a list of 2019 grant recipient community organizations. All of which are the direct benefactors of your generosity and assistance!
Our ongoing effort to support our larger and diverse community is in no small part a result of the enthusiasm and generosity of those who in-turn support us.  DiversityDHS now regularly conducts an incredibly successful BINGO! night every 3rd Monday of each month. Come join us and make new friends with the satisfaction you are doing so much more.
DiversityDHS BINGO! Nights
7-9 pm
Each 3rd Monday of the Month
TRUNKS
36737 Cathedral Canyon Drive
Cathedral City, CA.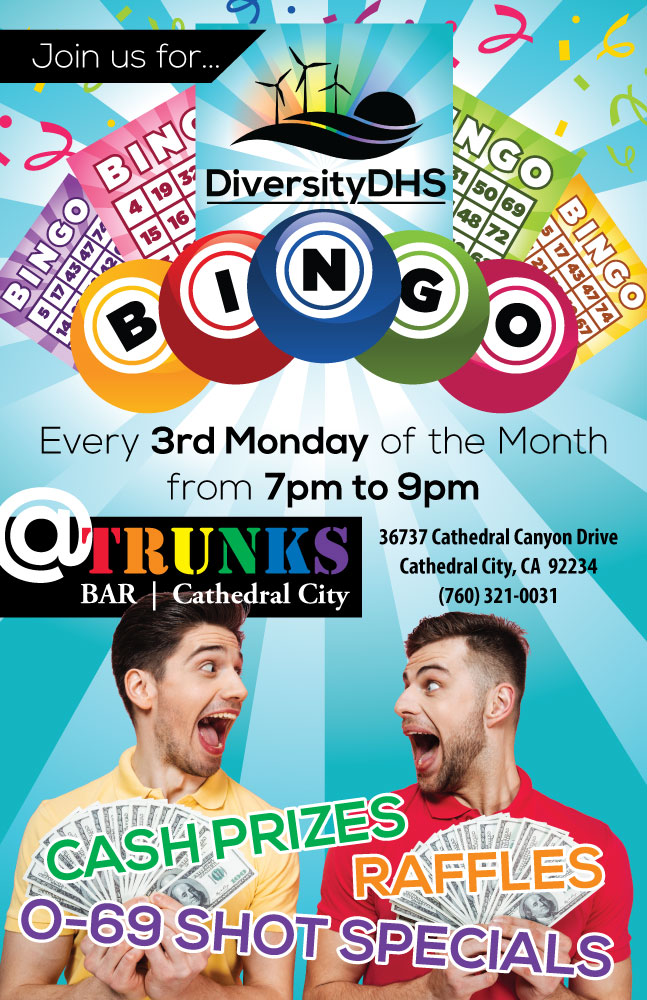 DiversityDHS is also dedicated to bringing an expansive variety of music and arts to our community from all genre and walks of life.
Our annual pride event at Cabot's Pueblo Museum hosts an awesome array of local and regional talent.
Click below to see just how much fun our festival attendees have each year at our event.