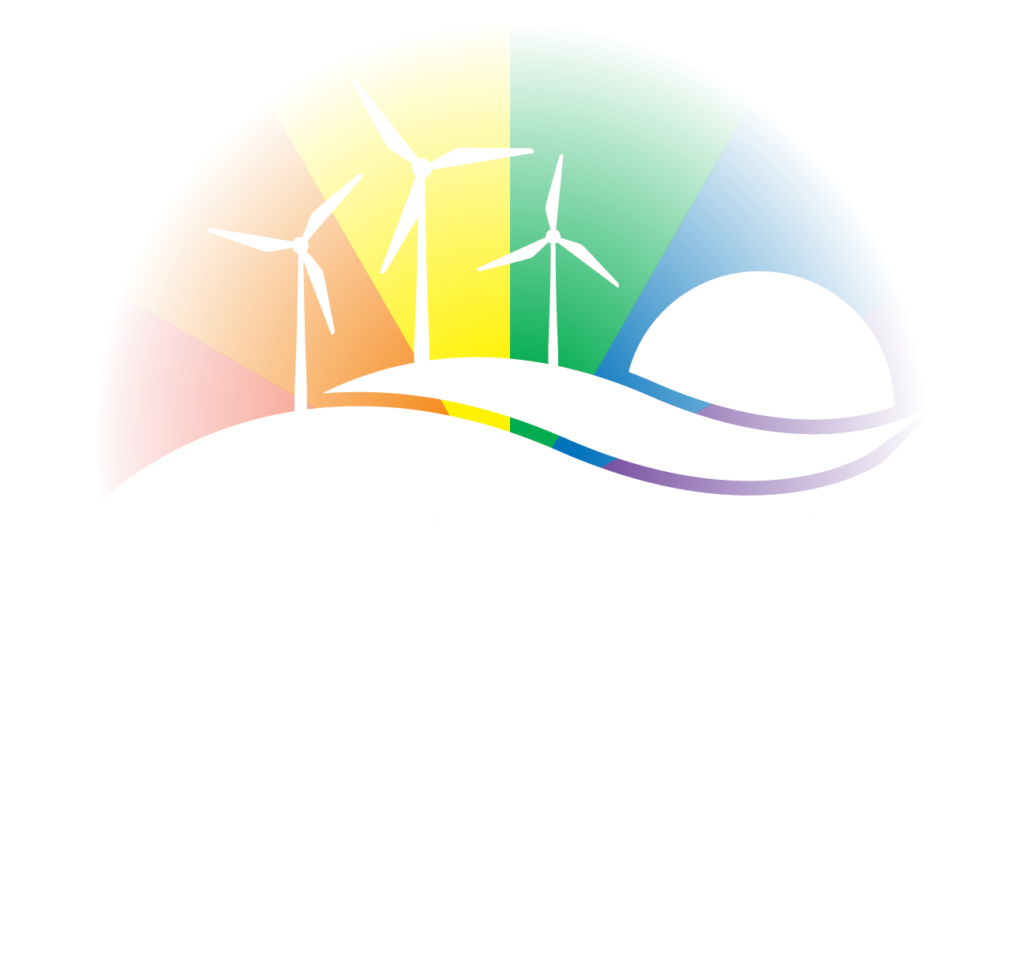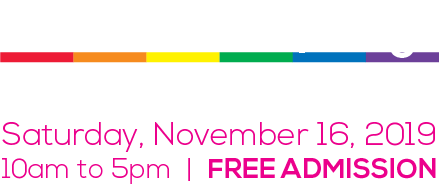 Welcome back to our 3rd Annual
Desert Hot Springs Pride!
| | |
| --- | --- |
| DiversityDHS holds it's annual Desert Hot Springs Pride Festival at the historic Cabot's Pueblo Museum. A most unique pride venue unmatched anywhere in the world. Click on the Logo to learn more about this fascinating location at the Cabot's Pueblo Museum official website. | |
Entry to the festival is FREE!  The festival is set up on 3-levels.  Come explore the pride booths featuring community services, retail items, art, local businesses and information organizations.  There's a stage with live entertainment and food vendors with food & beverages for purchase.  This is an ALL AGE event and is open to the entire community!  We'll have face painting as well as arts & crafts tables for the kids.   So bring your family and friends and see what Desert Hot Springs has to offer!
Please Note:  Unfortunately no pets allowed.  The only exception is Service Animals.
Street Parking open all around Cabots and the surrounding area.  There is also a parking lot open for festival-goers which is free and has a free on-going shuttle to and from the festival.  See map below for location of parking and shuttle: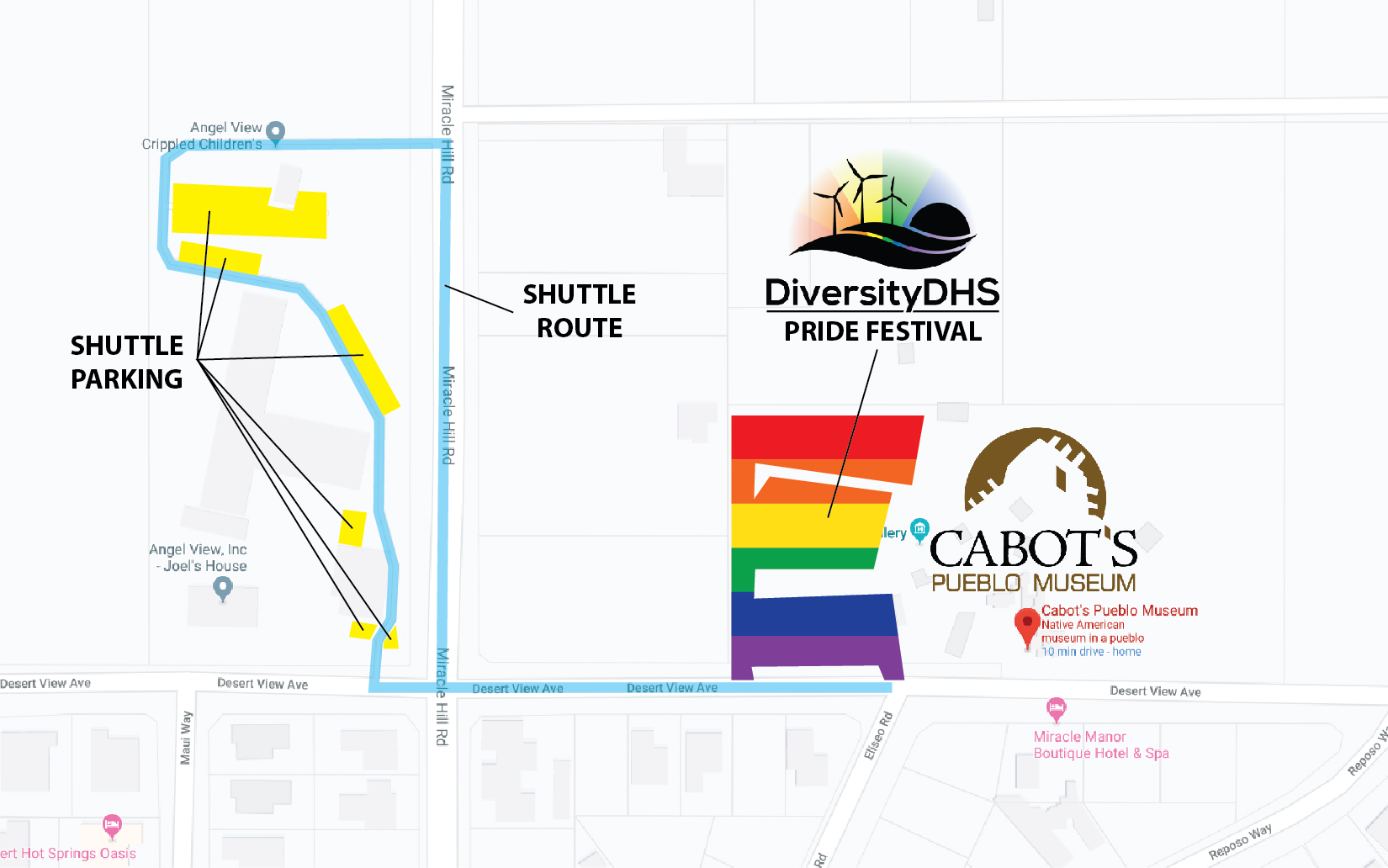 Festival Entertainment
We are so excited to annouce our DiversityDHS festival entertainment line-up this year.  From big names to local entertainers, you'll definitely won't want to miss this exciting day of dirverse entertainment!
DAWN WELLS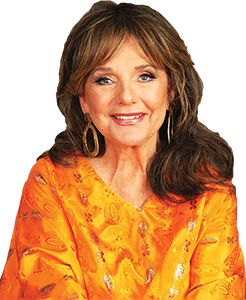 Dawn Elberta Wells is a beauty queen and an American actress who became known for her role as Mary Ann Summers on the CBS sitcom Gilligan's Island. Dawn did years of touring and performing in dramas, comedies, musical theatre as well as mentors young actors.  Come see as she shares her story and adventures with us.
BRYAN GALLO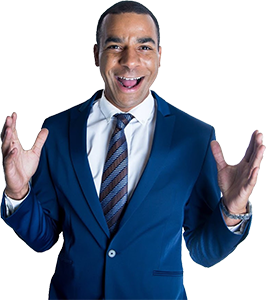 Emmy Award winning show host, Bryan Gallo joined KMIR News as a Weathercaster in August 2015. Bryan has also partnered in Design Show, Desert Living Show, Weather Forecaster, and Morning Weather KGAY 106.5. Weathercasting is a lifelong dream come true for Bryan. 
MODERN MEN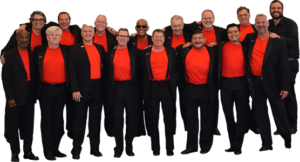 Modern Men: Coachella Valley Men's Chorus promotes harmony through outstanding performances as we entertain and empower our audiences and embrace diversity through community outreach. They are a proud member of the Gay and Lesbian Association of Choruses (GALA), which leads the North American GLBT choral movement, cultivating the artistic development of 10,000 singers from more than 190 choruses in the US, Canada, and Mexico.
TORREY MERCER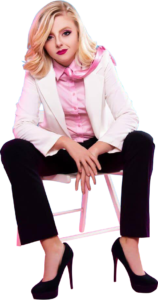 Award-winning Los Angeles based recording artist and songwriter Torrey Mercer brings bold charisma to the stage thru her live show and inspiring lyrics. Torrey is more than just a musical artist, she is a survivor, an activist, and her music has been a light in the dark for many who are struggling. Feeling like an outcast growing up has made her empathetic and compassionate for others and drives her music and lyric endeavors.
GEOFFREY MARK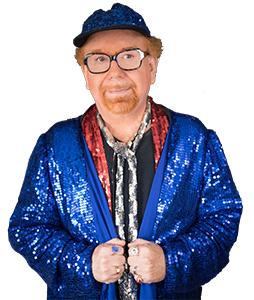 We are proud to present Geoffrey Mark as our Master of Cerimonies at DiversityDHS Pride. His tallents and honors include off-Broadway productions, summer stock, been a singer and stand-up comedian in New York nightclubs and cabarets as well as on cruise ships, the proud recipient of an Emmy Award and a Grammy Award nomination, hosted two radio series in Los Angeles, writes comedy for several stand-up comedians, writes and produces documentaries and reality shows for cable television, as well as hosted two radio series of his own as well as several special programs on radio and television.
LARRY ATELLO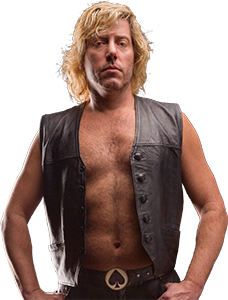 "If Jon Bon Jovi & Diana Ross had a LOVE CHILD it would be Larry Atello!" Larry, a native New Yorker, has never lost sight of becoming one of the best entertainers around. Currently starring in Tony n' Tina's Wedding at Ballys Resort & Casino on the Las Vegas Strip, Larry also dazzles audiences with his Bon Jovi tribute band, Jon Bovi.
DIVAS ON THE DANCE FLOOR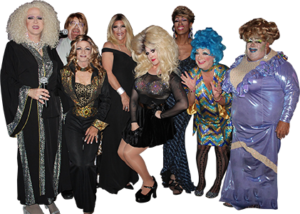 Divas on the Dance Floor is the premier drag show in Cathedral City. Starring Anita Treadmill, these girls are found dancing the night away every Friday night at Trunks Bar. As Anita says come and have fun at this greatest drag show in town.
EVE HOLMES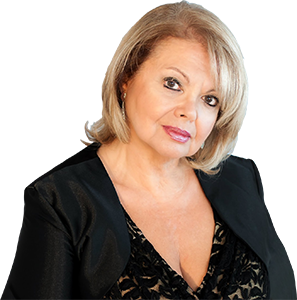 Eve is fabulous local singer and entertainer.  Located here in Palm Springs, Eve is a super singer of Jazz, Standards, Pop, R&B, Country, Blues, Latin and Dance Music. She has performed for the Academy Awards Governor's Ball, also with Natalie Cole, Kurt Russell, Jack Carter and Jack Jones. Sung and acted on movies & television shows. 
KEISHA D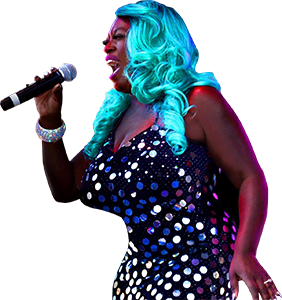 Honored by the local community and beyond, the amazing jazz vocalist Keisha D' graces us with live music that touches the heart and inspires the soul.  She has created her own shows, made appearances for local school and community fundraisers, and performs her musical tallents for local establishments.
SAIGO INIGUEZ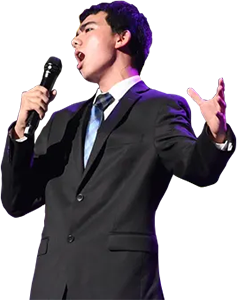 Saigo Iñiguez is Not Your Average 14 Year Old from Desert Hot Springs!  As the Open Call 2019 winning artists at McCallum Theatre: Vocalist Saigo Iniguez walked away with both the Grand Prize Award and Audience Favorite Award.
ALEX AVERY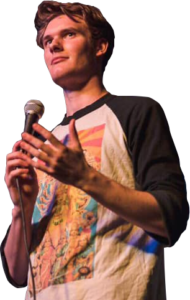 Alex Avery is a 23 year old standup Comedian hailing from Portland, OR. Winner of Acme Comedy Clubs funniest person 2016, Alex was also a finalist in the Joke Joint Comedy Competitionin Seattle WA and The Palm Springs International Comedy festival/competition in 2018.
GEM-NI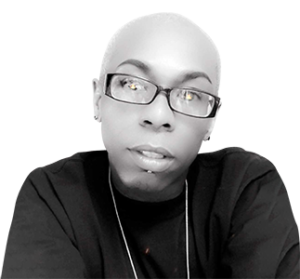 GEM-NI (aka Andrae Harrison) is a local singer/songwritter in Palm Desert.  An R&B soul singer with a unique and beautiful voice. Be sure to check out his music tracks on YouTube including his new track called "Thank You", produced by (X on the track).